About Us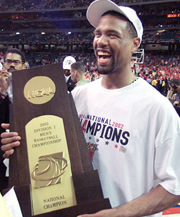 6th Man Sports was founded by Byron Mouton in 2009. The organization's mission is to instill academic excellence, values, discipline and leadership in student athletes. 6th Man Sports takes great pride in working with student athletes to strengthen skills and teach the fundamentals of Sports.

6th Man Sports Founder Byron Mouton help run sports programs with Montgomery Sports Association (MSA). MSA have one of the largest youth sports programs in Montgomery County which includes basketball, baseball, soccer, football and tennis. The programs are community based and are designed for kids that love sports and want to learn the fundamentals of all sports..
Elite Basketball League (EBL) is a youth basketball league for kids K - 11th grade looking for training led by professional coaches, not parent volunteers. Our mission is to strengthen skills, teach the fundamentals of basketball, and to place kids on a team within the EBL .

EBL (Elite Basketball League) is based out of Montgomery County.

AAU

6th Man Warriors a division of 6th Man Sports, is an elite basketball program which is designed to identify the top student athletes, boys & girls ages 8-17 in the Washington, D.C., Maryland, Virginia, West Virginia, Deleware, Louisiana, Arkansas and Oklahoma. 6th Man Sports is also a member of the Amateur Athletic Union (AAU) as a 501(c)(3) subordinate member organization that is dedicated to providing the very best training, competition and environment for young student athletes who have a desire to be the best.

6th Man Warriors was started in 2010 with just 1 team, and now has over 40 boys and girls teams. 6th Man Warriors has some of the most talented student athletes that play in elite AAU and Showcase Tournaments across the country.

We believe in teaching discipline, leadership and team work. 6th Man Warriors strives to give its kids, teams, parents and coaches a fun and rewarding experience that will last for a lifetime. 6th Man Warriors is one of the premier AAU programs in the Country.

In addition to our top notch basketball program, 6th Man Sports operates a mentoring program designed to help student athletes with academics, teach life skills through the game of basketball, enhance leadership qualities and encourage community service.

OUR FOUNDER
Byron Mouton, former captain of the 2002 University of Maryland National Champion team. Byron, a 6'6 swingman from Rayne, Louisiana, High School State Champion, AAU All American transferred from Tulane University where he was the teams leading scorer, to University of Maryland where he lead the Maryland Terrapins to its first National Championship in the history of the University.

Byron is a retired professional basketball player. He has played professional basketball in the United States, China, Germany and France. During his professional career, he was always known as a leader on and off the court. Byron being the competitive ball player and individual that he is, has always played a part in leading his team to a victory. Just as he was dedicated to the Terrapins, he is dedicated to developing young student athletes both on and off the court. "Many kids are not only seeking athletic development, they are looking for guidance and personal development as well", says Byron. His goal is to help his student athletes get college scholarships and teach them life skills through the game of basketball.

FUTURE OF 6TH MAN SPORTS
6th Man Sports is looking to build a 200,000 square foot sports complex to house elite student athletes. This proposed facility will have over 8 basketball courts, an indoor football & soccer field, weight training, academic learning center & mentoring program. 6th Man Sports will become the premier sports program in the Country.

If you are interested in becoming a 6th Man Warriors player or volunteer coach, please email us at This email address is being protected from spambots. You need JavaScript enabled to view it.